Enhancing Your Online Presence Through Portland SEO Experts

In the digital age, online visibility is crucial for the growth and sustainability of a business.
"Plant Powered Marketing", the premier local SEO agency in Vancouver, WA, understands this perfectly and aims to transform your online image through its dedicated SEO services.
The agency's skilled team of Portland SEO experts utilize an arsenal of SEO tools, from keyword research and link building to social media strategy and content creation, to enhance your search engine rankings.
Keep reading to explore how their unique strategies can turn your business website into a market leader.
Navigating the digital realm can be a daunting task, especially for business owners with minimal SEO knowledge. Portland SEO services, such as those offered by Plant Powered Marketing, are instrumental in navigating this complex field. Your business' online visibility can be the difference between thriving or fading into the shadows of the market.
As the choice of SEO company can significantly impact your business website, it's crucial to pick a market leader. Plant Powered Marketing, an SEO agency with a high reputation in Vancouver, WA, and Portland, is one such company. Their range of services—from search engine optimization to link building, from web design to content marketing – don't just aid your online visibility, they amplify it.
Their diverse team is composed of SEO experts, web design experts, and content creators who are adept at crafting search marketing campaigns tailored to your business' unique needs. They recognize the importance of customer service and conversion optimization, thus they design SEO solutions to enhance brand reputation and increase website traffic:
Keyword research and SEO audit to identify relevant keywords and assess the current SEO standing
Content creation that captivates your target audience, employing SEO strategy to enhance search engine rankings
SEO campaign management that includes backlink management and retargeting as a part of their internet marketing service
Social media strategy integration with SEO efforts for a harmonious marketing campaign
Engaging with this Portland SEO agency equips your business with an advantage unmatched by any DIY endeavor. You gain access to SEO consulting services and the skills of an SEO specialist. The resulting boost to your online visibility lays the foundation for sustainable business growth, making Plant Powered Marketing an ideal partner for every business owner seeking SEO success.
The Role of Portland SEO Experts in Boosting Online Presence

Portland SEO experts, such as those at Plant Powered Marketing, provide successful strategies to boost your online presence. They follow a methodical approach to SEO, defining clear objectives during the initial stages of their SEO service. They deploy meticulously planned SEO campaigns that transform your business website's visibility on search results, ensuring your company earns a notable presence online.
Understanding your target audience is at the heart of an SEO expert's mission. By conducting rigorous keyword research and employing advanced search engine optimization services, Portland SEO Experts deliver content that appeals to your audience. They ensure your website and its content align with what your target market is searching for, optimizing your content's relevance in the context of your audience's needs.
Online reputation management is another crucial aspect of enhancing your online presence. Portland's SEO experts focus on this when curating your search marketing campaigns. They understand the volatile nature of the digital market and use their SEO skills to build resilient online reputations that withstand changes in search engine algorithms, keeping your brand in a positive light to the public.
Lastly, integrating a robust social media marketing strategy with SEO is a winning tactic in today's digital world. SEO agencies like Plant Powered Marketing focus not just on search engine results, but also on expanding your social media footprint. They create compelling content that encourages sharing, engenders positive association, and drives significant web traffic to your site, ultimately strengthening the overall online presence of your business.
How SEO Services Can Enhance Your Digital Image

A well-crafted SEO service, such as those offered by Portland SEO companies like Plant Powered Marketing, plays a critical role in molding your digital image. By employing modern SEO strategies, they increase visibility for business websites, striking a balance between appealing web design and SEO-friendly content that align with search engine algorithms. As a result, your digital image takes on an enhanced, professional sheen, compelling to both your target audience and search engines alike.
Contrary to the belief of many business owners, SEO isn't solely about achieving high search engine rankings. A good Portland SEO company focuses equally on the reputation management of your online presence. Through careful response strategies, crisis foresight, and regular communication, they maintain your positive digital image even in times of potential downturns or crises.
Note the underlying factors that the Portland SEO experts from Plant Powered Marketing incorporate into their SEO strategy to enhance your digital image:
| SEO Strategy Element | Impact on Digital Image |
| --- | --- |
| Website Design | Creates a visually appealing and user-friendly digital platform |
| Keyword Research | Aligns content with user needs, leading to greater online relevance |
| Content Creation | Offers value to visitors, establishing authority and credibility |
By integrating SEO solutions into your marketing strategy, your business can secure a strong and appealing digital representation. Plant Powered Marketing's team of SEO specialists capitalize on important ranking factors and ensure your website's structure, content, and backlink profile are ideally used to boost your online image. Their thorough approach to SEO service translates to a digital image that truly represents the quality and values of your business.
Customized SEO Solutions for Your Business Needs

Every business is unique, therefore their SEO needs are unique as well. That's where the expertise of a Portland SEO agency like Plant Powered Marketing truly shines. This SEO firm appreciates the individuality of each business and its specific market positioning, hence tailoring their approach to suit those distinct needs.
Customized SEO solutions begin with a comprehensive SEO audit, designed to determine your website's current situation. By revealing your standing in search results, evaluating your web design, and assessing your content's performance, a firm understanding of your website's current strengths and areas needing improvement is gained. With this data, a personalized SEO strategy is set in place, aiming to maximize the potential of your business' digital reach.
Moreover, the process includes extensive keyword research and incorporation of these critical search terms into your content and website meta-data. By using targeted keywords that resonate with your audience, these experts optimize your chances of drawing meaningful, high-quality traffic to your business site. This particular aspect of customization helps ensure your online visibility aligns precisely with the relevant customer base.
Your business also benefits from customized marketing campaigns beyond SEO. Plant Powered Marketing doesn't just stop at improving your search engine rankings; they extend to crafting tailor-made advertising campaigns that fit your business model. Be it social media, retargeting strategies, or any form of internet marketing service, their aim remains the same – to provide excellent results and meet business growth goals according to your individual requirements.
Achieving Positive Results With Expert SEO Strategies

Expert SEO strategies are not one-size-fits-all approaches; they evolve with changes in the business environment and digital trends. SEO agencies in Portland like Plant Powered Marketing understand these intricacies and bring their SEO skills to play to modify strategies accordingly. These tactics can effectively combat the challenges that the ever-changing algorithms of search engines present, thereby maximizing your business growth.
These experts follow certain steps to ensure SEO success. First off, they conduct an in-depth SEO audit to evaluate your website's current standing. This helps identify any potential weaknesses and also analyze the competition. Afterward, this information is utilized to design a powerful SEO campaign that can effectively attract website traffic and improve your search engine rankings.
Their SEO strategy encapsulates a range of vital components meant to foster positive results:
Keyword research to target high-value search terms
On-page optimization to enhance individual web pages and improve rankings
Off-page optimization, such as quality link building, to boost website authority
Social media integration to foster community engagement and improve brand image
Constant monitoring and adjustment of SEO campaign according to changing digital trends
By employing proven SEO strategies and keeping abreast of search engine updates, Portland SEO experts ensure that your website not only attains high search engine rankings but maintains it. This organic visibility leads to increased website traffic, improved customer engagement, and ultimately, more conversions, signifying the effectiveness of the expert-led SEO strategy.
Why Local and National Brands Trust Our SEO Expertise

As a premier SEO agency in Vancouver, WA, with a strong presence in Portland, Plant Powered Marketing has earned immense trust from both local and national brands. Their reputation isn't just built on their expertise in the SEO field, but also their unwavering commitment to result-driven strategies and exceptional customer service. It's through these principles that the agency has forged strong relationships and achieved consistent SEO success for clients, distinguishing themselves from other SEO companies.
Plant Powered Marketing's team of SEO experts bring extensive experience and proficient skills to the table. They boast a proven track record, demonstrating their ability to create data-driven SEO campaigns that yield positive results. Their impressive success in achieving tangible growth for businesses has fostered a reputation for competence and trustworthiness within the industry.
The trust placed on their SEO expertise essentially comes down to a few critical factors:
A track record of tangible SEO success for diverse clients
Usage of ethical and up-to-date SEO strategies that align with search engine's guidelines
Commitment to transparency and regular communication with clients
Demonstrated skills in various elements of digital marketing – SEO, SEM, Web Design, and more.
Their steadfast dedication to enhancing clients' online visibility and driving growth rates coupled with their ability to execute successful SEO strategies make them an ideal partner for businesses. Their status as a trusted SEO agency in the competitive digital marketing landscape is a testament to their commitment to their clients' success. Hence, it is no wonder so many local and national brands trust their SEO expertise.
Unpacking the Comprehensive Approach of Portland SEO Services

Plant Powered Marketing, a highly-respected Portland SEO agency, embraces a comprehensive approach when it comes to delivering SEO services. This strategy is both meticulous and multi-faceted, designed to provide sustainable online success for your business website. Being comprehensive in their approach means that they do not merely focus on one aspect of SEO but rather, they integrate many elements to create a robust and effective strategy.
At the core of their approach is a fundamental understanding of how search engines work. This knowledge allows them to manipulate algorithms in a positive way that promotes your business online. They use advanced tools and technologies for detailed keyword research, making certain that your content is what your target audience is looking for.
This comprehensive strategy of theirs comprises:
Robust keyword research to ensure your content aligns with what your audience seeks
On-page SEO optimization to make your website more searchable
Off-page SEO strategies such as backlink management to enhance your website's domain authority
Technical SEO to enhance the functionality of your website and improve the user experience
Regular SEO audits to track performance and make necessary adjustments where required
The outcome of this comprehensive strategy is evident in the improved website traffic, higher search engine rankings, and increased conversions achieved by clients. Indeed, the holistic approach employed by Plant Powered Marketing's Portland marketing agency assures that every facet of your digital presence is optimized for success. Hence, when it comes to comprehensive SEO service, this agency stands out as an undisputed market leader.
Affordable SEO Services: Value for Money

Plant Powered Marketing, the leading SEO agency in Vancouver, WA, isn't only recognized for its expert SEO solutions but also for offering these services at an affordable rate. Their commitment to providing value for money resonates well with many businesses, particularly small and medium-sized enterprises. Being able to access top-tier SEO services without causing a strain on your budget makes this SEO agency an attractive option for many businesses seeking to enhance their online presence.
The affordability of their SEO services does not mean they compromise on quality. In fact, they maintain high professional standards for every project they undertake. Whether you're a startup or an established company, they tailor their services to satisfy your business needs without breaking your bank.
Spending less yields tremendous value with their services:
Well-researched and tailored SEO strategies that align with your business goals
Access to SEO experts with vast knowledge and experience
Regular reporting to ensure you're well-informed about the progress of your SEO campaigns
24/7 customer support to address your concerns promptly
High-level service delivery that guarantees an impressive return on investment (ROI)
Therefore, businesses can take advantage of their affordable business marketing services and ensure burgeoning online visibility while remaining within budget. With Plant Powered Marketing, you have the assurance of getting value for every dollar spent. Their affordable yet excellent services prove that boosting online presence and growing your business doesn't have to be an expensive feat.
Transform Your Business With Improved Web Visibility

The age of the digital revolution has shifted the way businesses operate, and having a strong web visibility is now more crucial than ever. Reliable SEO services, like those offered by Plant Powered Marketing, a leading SEO firm in Vancouver, WA, and a stalwart presence in Portland, can help businesses successfully navigate this new terrain. They provide comprehensive SEO solutions that enhance search engine rankings, thereby significantly improving your business's visibility online.
The SEO strategies employed by Plant Powered Marketing are designed to deliver real, quantifiable results. The keyword research they conduct is precise, focusing on search terms that are relevant to your business and your customers. Their expert team ensures that these keywords are strategically woven into your website's content, increasing visibility to the target audience and leading to higher search engine rankings.
Increased web visibility does more than just drive traffic; it provides a platform for brand building and reputation management. Potential customers are more likely to trust a business that appears in top search engine results. By availing of well-executed marketing services from a reputable Portland SEO agency, businesses can move ahead of competition, build brand trust, and spur business growth.
In a crowded digital landscape, businesses must strive for visibility. With its intelligent SEO strategies, Plant Powered Marketing serves as a catalyst for transformation, enabling your business to emerge from the shadows onto the main stage of search engines. This transformation not only expands the reach of your business but also significantly augments its growth and success.
How Our SEO Services Grow Your Digital Presence

Plant Powered Marketing, a Portland SEO company with an impressive footprint, has tailored its services to grow your business's digital presence. The SEO services they provide are designed to address multiple facets of online visibility, thus allowing your business to climb the search engine results and reach a wider audience. This multifaceted approach ensures all angles are covered, giving your business a comprehensive online visibility boost.
At the core of their services lie targeted SEO strategies drawn from exhaustive keyword research. By honing in on the keywords your target audience uses in their searches, Plant Powered Marketing's SEO specialists craft content that promptly appears in relevant search results. This content not only captivates but satisfies the informational needs of consumers, driving more traffic to your website and growing your digital presence.
Moreover, considerable emphasis is placed on ensuring optimal experience for your site's visitors. Their team of web design experts leverages the latest tools and techniques to give your website both aesthetic appeal and user-friendly navigation. The blend of attractive and functional web design further amplifies your digital presence by making visitors spend more time on your site and revisit later.
In summary, Plant Powered Marketing's marketing agency encompass everything you need to enhance your digital footprint. The combination of their strategic SEO campaigns, fine-tuned web design, and engaging content creation has proven successful in growing clients' digital presence. By entrusting your digital growth to their service, your brand can expect a significant surge in online visibility.
Debunking Common Misconceptions About SEO Services

Despite the surge in digital marketing, several misconceptions about SEO services still persist. Misunderstanding the role of SEO can inhibit businesses from utilizing its benefits fully. Plant Powered Marketing, the premier SEO consultant in Vancouver, WA, and Portland, successfully debunks these misconceptions by illustrating the value and potential of proper SEO campaigns.
One of the common misconceptions is that SEO is a one-time task that doesn't need regular updating. This is far from the truth. Due to the constantly changing algorithms of search engines, consistent monitoring and updating of SEO campaigns is necessary to maintain your website's visibility and rankings.
Here are a few other common misconceptions demystified:
SEO guarantees immediate results: A successful SEO campaign takes time, and results get better as your efforts continue over time.
Any link is a good link: SEO services focus on high-quality link-building strategies. Not all links are equal, and poor-quality links can negatively impact your rankings.
Keyword stuffing improves rankings: Overloading your website content with keywords (known as keyword stuffing) can result in penalties from search engines.
Debunking these misconceptions helps businesses understand the true nature and potential of SEO services. A reputable Portland SEO agency like Plant Powered Marketing espouses the principles of ethical and effective SEO. They ensure businesses have the right knowledge and expectations about SEO, providing them with the correct tools to maximize their online presence.
The Commitment of Our Founders Towards SEO Excellence

The excellence of Plant Powered Marketing's SEO services is rooted in the dedication and commitment of its founders towards delivering exceptional SEO solutions. With an unwavering faith in the transformative power of SEO, they have shaped the agency's ethos around providing top-notch SEO services that enhance a business's digital presence. They firmly believe that a well-executed SEO strategy can propel a business ahead of its counterparts, ensuring its growth and success.
Guided by a keen understanding of search engine algorithms and user behavior, the founders have equipped the agency with advanced SEO tools and strategies. Their in-depth knowledge of the field has informed the development of tailored SEO services for diverse businesses. Their commitment to their craft is mirrored in the consistently high SEO rankings achieved by the business websites under their purview.
Notably, the founders' commitment extends beyond creating effective SEO strategies to building lasting relationships. They consider each client as a partner, not a mere project. This client-centric approach underlies their unwavering dedication to delivering SEO solutions that truly meet their clients' needs and live up to their expectations.
Ultimately, the founders' commitment towards SEO excellence has set Plant Powered Marketing on a path towards becoming the leading SEO firm in Vancouver, WA, and one of the most prominent in Portland. Their seasoned understanding of the lay of the SEO land and commitment to developing transformative strategies is what makes each client's journey towards enhanced online presence with Plant Powered Marketing a promising one.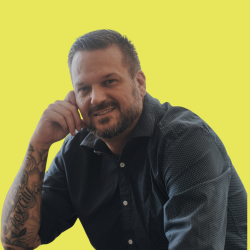 Latest posts by Spencer Lund
(see all)