Premier Internet Marketing Service in Vancouver WA
Within the vibrant business environment of Vancouver, WA, a company stands out for its expertise in internet marketing services, Plant Powered Marketing.
This top-tier SEO agency harnesses the full arsenal of marketing channels, from being expert email marketers to dynamic social media personnel, all while delivering high-impact marketing strategies.
Comprising an ensemble of marketing experts, this agency also provides leading-edge PPC services and trend-orientated affiliate marketing.
Keep reading as we unfold the story and unique offering this premier digital marketing agency brings to the table.
The Value of Premier Internet Marketing Services
Plant Powered Marketing, the premier local SEO agency in Vancouver, WA, demonstrates the significant value of comprehensive internet marketing services. Strategically developed by a team of experienced marketing professionals, these services are designed to optimize a company's online presence and drive brand awareness.
The agency offers an array of internet marketing services ranging from SEO, PPC services, email marketing campaigns to social media marketing and affiliate marketing. Each marketing channel is expertly curated to target the intended audience, ensuring that the marketing strategy produce notable results:
| Marketing Service | Function |
| --- | --- |
| SEO Services | Increase website visibility on search engine market |
| PPC Services | Drive high-quality traffic to the website rapidly |
| Email Marketing Campaigns | Improve customer engagement and retention |
| Social Media Marketing | Boost brand awareness among internet users |
| Affiliate Marketing | Promote products/services through influencer marketing |
In addition to these marketing services, Plant Powered Marketing also focuses on web design and content. In this intrinsic part of internet marketing, the marketing agency focuses on website design that is engaging and user-friendly while also implementing a content strategy that is appealing and SEO-friendly to improve search engine rankings.
Case studies and testimonials, attesting to the company's expertise and result-oriented approach, imbue potential clients with confidence. This premier SEO company believes in transparency and operates with the core belief that each customer achievement becomes part of its own success story.
The Unique Services of Premier Internet Marketing Company in Vancouver WA
Plant Powered Marketing, a premier internet marketing service in Vancouver WA, sets itself apart by providing unique service offerings. This special digital marketing agency is lauded for its comprehensive approach to providing a myriad of marketing services tailored to fit the specific needs of each client.
The agency boasts of specialized teams for each service, including but not limited to SEO service, web design, PPC services, social media, and email marketing campaigns. Each specialized team comprises marketing experts with wide-ranging experience and unique strategies, offering the following unique services:
SEO services that focus extensively on keyword optimization and link building services, thereby boosting visibility on search engine markets.
Expert website design services that create visually appealing, mobile-friendly, and search engine optimized websites.
Highly targeted PPC services that direct quality traffic to your site, boosting sales and conversion rates.
Enterprising social media marketers who leverage the power of various social media platforms to engage target audiences, create brand awareness and generate leads.
Email marketers who manage end-to-end email campaigns, designing unique content to nurture leads and convert them into loyal customers.
The agency's unique marketing tactics and channels cater to all brand sizes and types. Growing businesses can benefit from these effective and affordable marketing strategies to increase their visibility and drive growth.
Overall, Plant Powered Marketing offers a comprehensive service suite suitable for businesses seeking a robust online presence. The agency's commitment to uniqueness and quality in service provision sets it apart as a premier internet marketing service in Vancouver, WA.
Building Brand Awareness With Premier Internet Marketing
Building brand awareness is a focal point of Plant Powered Marketing, the premier internet marketing service in Vancouver, WA. Understanding its critical role in shaping brand perceptions and driving customer loyalty, the agency invests significant effort into creating impactful brand awareness strategies for its clients.
The marketing team, featuring experienced marketing professionals, adopts a blend of digital marketing services for creating brand visibility. They harness the power of SEO, social media marketing, influencer marketing, and Google ads to inform, engage, and convert the target audience into loyal customers.
Another vital aspect of their brand awareness strategy is creating engaging, searchable content. Content marketers at the agency craft captivating narratives that resonate with the audience, driving engagement and shares on social media platforms. Sharing these stories increases brand visibility, creating a buzz and a positive brand image.
Overall, the team at Plant Powered Marketing values the importance of brand awareness in connecting businesses with their audiences. Through their comprehensive approach with their digital marketing services, they help businesses build a strong brand presence, fostering customer loyalty and long-term business success.
Why Businesses in Vancouver WA Should Choose Premier Internet Marketing Services
Choosing the right marketing service for a business in Vancouver, WA, could be the determining factor between merely surviving and truly thriving in today's digital age. Developing an effective online presence is pivotal to reaching out to a wider audience. This task becomes significantly trouble-free with the support of Plant Powered Marketing, a premier internet marketing service provider in the region.
Businesses should choose Plant Powered Marketing services for numerous reasons because the agency is focused on the client's success in the marketplace. From search engine optimization to social media marketing and everything in between, their team uses all channels to maximize brand exposure and generate leads. Specifically, businesses can stand to benefit significantly from:
A comprehensive range of marketing services designed to hit every marketing channel relevant to the business's target audience.
An approach that leverages the power of multiple techniques, from PPC services to SEO services, email campaigns, video advertising, and influencer marketing.
A skilled team of professionals who understand how to successfully drive customer engagement and conversion rates.
Dedicated video marketing services, a sector in which many Vancouver-based businesses still fail to capitalize fully.
Tested and effective marketing tactics that businesses can trust to drive results and deliver a favorable ROI.
Furthermore, Plant Powered Marketing demonstrates a high level of professionalism and client commitment. It's not just about selling a service for them; they're genuinely invested in their customers' growth. They take time to understand their clients' businesses, and they tailor their strategies to meet specific business needs and objectives.
In conclusion, every business that seeks a competitive edge in the market ought to consider partnering with Plant Powered Marketing. The agency's unwavering commitment to excellence, flexibility, and results-oriented approach makes them the preferred choice for any business seeking to enhance its internet marketing efforts.
Leveraging Premier Internet Marketing Services for Revenue Growth
For any business, revenue growth is a fundamental objective. An effective way to achieve this is by leveraging the expertise of premier internet marketing services such as those offered by Plant Powered Marketing in Vancouver, WA. Such services play a critical role in diverse aspects of revenue growth, including lead generation, conversion rate optimization, and customer retention.
Plant Powered Marketing employs a comprehensive range of marketing tactics to increase visibility and draw in potential customers. They utilize strategies like search engine optimization, Pay Per Click (PPC) services, social media marketing, and email marketing campaigns. These strategies maximize the reach of the business, yielding a higher volume of quality leads and prospects.
Moreover, the marketing team at Plant Powered Marketing works diligently to facilitate high conversion rates. They achieve this through personalized email campaigns, engaging content marketing, and targeted Google ads. By directing these marketing efforts towards the right audience, they help convert prospects into loyal customers, contributing to an increase in sales and, subsequently, the company's revenue.
Finally, through their expert marketing efforts, Plant Powered Marketing helps retain customers by instilling brand loyalty. Consistent brand messaging, timely communication, and valuable content are used to nurture relationships with customers and ensure repeat business. Thanks to their efforts, businesses working with Plant Powered Marketing witness a significant and consistent rise in their revenues.
Client Testimonials on Premier Internet Marketing Services in Vancouver WA
The efficacy of Plant Powered Marketing, a premier internet marketing service provider in Vancouver, WA, is clearly attested by the testimonials of its satisfied clients. These testimonials reflect the high level of service quality and customer satisfaction the agency consistently delivers, helping boost their reputation as a top-notch marketing provider.
One customer, a local restaurant manager, praised the effectiveness of the agency's targeted social media advertisements. He applauded how Plant Powered Marketing's social media marketers were able to increase the visibility of his restaurant on various platforms, driving an increase in customer traffic, and subsequently, business revenue.
Another testimonial comes from a clothing store owner who had her online store's traffic skyrocket due to targeted SEO strategies. She noted that the agency's SEO service delivered better search engine ranking, leading to increased online visibility and sales. The eCommerce website design further enhanced the shopping experience, leading to increased customer satisfaction.
Moreover, there's repeated praise for the agency's excellent customer service. Clients find the marketing team to be highly professional and responsive, consistently delivering impressive results. These testimonials further prove the credentials of Plant Powered Marketing as a premier internet marketing service in Vancouver, WA, and the go-to agency for achieving successful online marketing outcomes.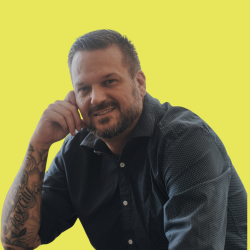 Latest posts by Spencer Lund
(see all)